Medallions & Emblems
Manufacturer & Designer - Contract Manufacturing Specialists
Medallion materials are die-struck, cast and stamped. We work in aluminum, zinc, tin and brass as well as plastic. We can incorporate your logo and manufacture in the desired shape, size, and color.
Cosmetic & Fragrance Medallions for Bottles
Liquor Medallions & Emblems for any Bottle or Container Style
Nameplates & Hang Tags
Beverage Industry - Wine, Beer & Distilled Spirits
Apparel Industry • Promotional & Advertising Specialties
Private Security, Military, Government
Click Images to Enlarge for Details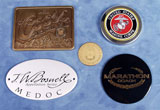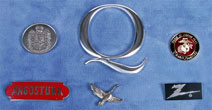 Available in any size, shape & color. All medallions are crafted & molded or cast to specs.
Various Finishes Available
Applications on Bottles & Barrels Fastened to any Surface
Medallions and Emblems supplied with Hotmelt, Glue or Foam Adhesive backed
Decorated with Ribbons & Cords, Ideal for Company Colors, Logos and Designs for Branding your Product
Some Satisfied Customers: Mont Blanc, Heineken, Dunhill, Colehaan Shoes, Revlon, Jim Beam, Jack Daniels, Bacardi, Wild Turkey.